Alexei graduated with BSc in Computer Science from University of Southampton, with First Class, in 2002, and completed a Research MSc in Advanced Computing at Imperial College London in 2003 (with distinction).

He is now pursuing a PhD in Computer Science (in the field of Information Retrieval) at Imperial College, where he has been awarded the Overseas Research Scholarship to support his studies.

During his undergraduate years, Alexei had work experience in the USA.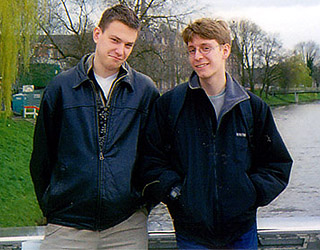 Nick and I in 's Hertogenbosch, Holland - April 2001