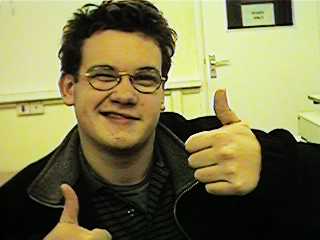 It is now May 1999, but I still haven't applied! I think I'll probably do a degree in French and Politics though, at a university in the North, with a possible career in politics, PR or law.
First, Best and Worst Memories of Bedales : The most vivid first memory is, as you might expect, my first dorm in Block 3 (Graham) - with Jonnie Stokes, Tom Bobrzynski, Martin Wells (and for the first week, Leon Allen). Strangely enough, the event that particularly stands out is when Martin got a Cod Liver Oil capsule and pierced the outer layer. He then gave it to Tom (who was from Poland), who could only reply - 'Hmm, tastes like fish!'.
Worst memory - I think it must just have to be our 17-0 thrashing at the hands of King Edward's Witley when representing the U14B team. Adam Middleton (in goal) didn't want to get his tracksuit bottoms dirty, James Ashton had a dead leg and Alex Bond played the entire match with one football boot and one Jaw shoe!!!
Best? there have been some terrific times with everyone in our year. I'm particularly grateful to Keir and Sheila Rowe though, for looking after me so well. I have to say that I've also particularly enjoyed 62 flat. Best wishes to you all!