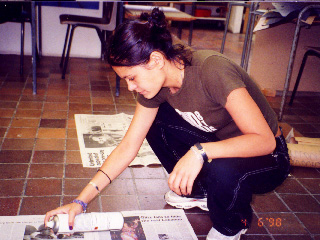 Thank you Bedales, you've given me an opportunity I never would have been able to experience back home. Thanx to John Scullion (sorry about your brother's Christmas card), George Hatton, Mary Woolley (I won't forget that horrible lamb/dog thing I made, which mysteriously haunts Alison Willcocks' desk), Gill Simpson and Alastair Langlands.
To the mixed common room: I will miss all of you. I won't forget the nights we spent mooching around watching Buffy and Dawson's creek. Thanx Katie Brown for being my shop assistant! Daisy and Ali, thank you so much. Life would have been so complicated without you! I'm going to miss you soooooooooooo much, we better keep in touch.
Always remember nights we spent under the stars (neither wind nor hell could rid us) there were times up there when I truly thought that life couldn't get any better. I love you! Marie I'm hoping you'll read this from Germany! I miss you mein schatz! I'm so glad that we both arrived in Bedales (as foreigners!) I think it was God's gift to send me someone so special as my guardian angel... I love you!
Chloe B, Al M, Mary-Anne, Alison B, Michael, Chloe T, the Emily's, Katie D, Marie-Helene - the list could go on and on - I'll never forget you guys! I hope we keep in touch. I've been dreading this bit, it's soppy, but he has to be mentioned!
I suppose I am to thank Bedales (and his Parents) for an amazing person who fills all my heart's desire! I love you Martin, thanx for being my punch-bag, my pillar of strength, my comedian and my best friend. Everyone, you're all invited to our wedding. Invitations will come soon!
Lastly I'd like to thank the Wells Family and the Sandberg's for everything, especially your kind hospitality. I hope one day I can return my gratitude. I'm off to my gap year, studying mandarin in China, Beijing. Please feel free to call me if you visit Hong Kong or Beijing. But, I'll be back in the UK for Uni! Can't get rid of me!