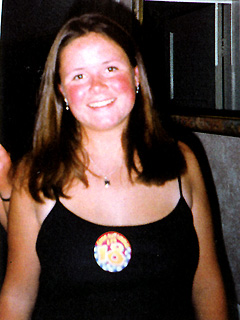 Clare Richards (A.K.A Taffy)
To my fellow classmates of '99: Well what a great few years we've had together! Next year, I'm hoping to go to UWE (The university of the West of England) in Bristol to do French, Spanish and Law. I know that various people are hoping to go to Bristol next year, so I'm sure I'll see you around.
All you others are very welcome to come and see me and the sheep in Wales if you wish!!! After university, I hope to carry on with law (maybe international), so if anyone ever needs any legal advice in about 5/6 years just give me a call. I'm going to miss a lot of things and people at Bedales, but then again, there are a lot of things that I can't wait to get away from!! But as far as keeping in touch with people, I hope to do so with a lot of you.
Just before I go, I'd like to say I'm very sorry to all you England rugby supporters who had to go through the misery of seeing them lose to Wales this year in the Five Nations- Better luck next time, Hey!!! Keep in touch, Lots of love, and good luck in whatever you do,
Taffy xxxx