Born: 21st September 1980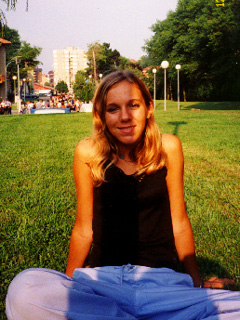 So long, Farewell, auf weidersehen, adieu, adieu, adieu, to yu and yu and yu. We're all going on a summer holiday, Don't cry for me Argentina, We'll meet again, don't know where, don't know when!!.
I'm going to be living in London working, probably in a Starbucks Coffee bar, so if you're around and you see one come inside, I'll be the one who can't carry more then one cappuchino at a time.
In January I'm going to Ecuador with Lucy Bram, we're going to find our karmas in the Andes with the hill people and maybe plant some new palm trees!? Then we'll be travelling around South America with Lucy Andrew and maybe Becca Carnegie!!. Then we'll be back to apply to university and then who knows?.. Lets just say I'm looking towards big flashing lights and my name in print!!!.
Bye,
love, Georginaaaaaaaaaaaaaaaaa